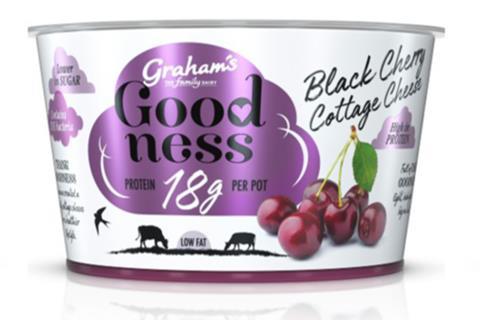 Graham's the Family Dairy has added a fruit-flavoured cottage cheese range to the Goodness brand it launched in March.

The high-protein products combine Graham's cottage cheese with a strawberry, peach or black cherry compote.

It is also low in sugar and fat, contains millions of gut-friendly live bacteria and 18g of protein per serving. It will go on sale in Aldi in Scotland on 7 May (rsp: 89p) and M&S stores north of the border the following week (rsp: £1. The supplier also expected the range to be rolled out across the rest of the UK over the coming months, said Graham's MD Robert Graham.

Similar products had been a big hit in the US, added a Graham's spokeswoman, and would "surprise some people".

The business launched its Goodness range in March with an ice cream variant it described as "a tasty, healthier ice cream bursting with flavour and nutritional benefits".