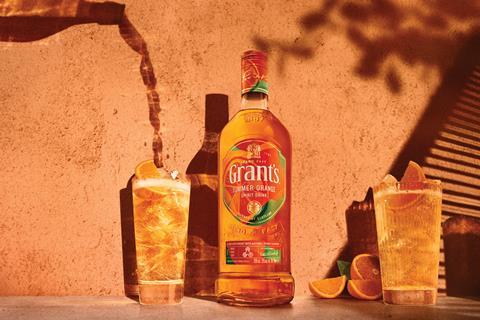 Blended whisky staple Grant's is branching outside whisky with its first flavoured spirit drink.
The William Grant brand has created a new Summer Orange flavoured drink, which is claimed to offer "key notes of citrusy orange plus Sicilian orange extract".
The 35% abv drink uses Grant's blended whisky as a base, but cannot technically be called a whisky itself because of its lower alcohol content and the presence of flavouring.
Grant's global brand ambassador Daniel Dyer said the NPD offered "a fantastic combination" of whisky and orange that was "made for summer evenings and perfect to enjoy with friends".
It certainly isn't the only whisky brand, let alone the only booze brand, ploughing this furrow at the moment.
Last year, Diageo-owned Haig Club launched a Mediterranean Orange flavoured spirit in a bid to broaden its appeal outside traditional whisky drinkers.
Jameson, too, jumped on the bandwagon, with an even lower alcohol (30%) spirit drink a few months later.
In fact the trend for all things orange hasn't been limited to whiskies. Gin brands such as Gordon's and ciders including Rekorderlig, too, have all launched orange flavoured drinks over recent months.