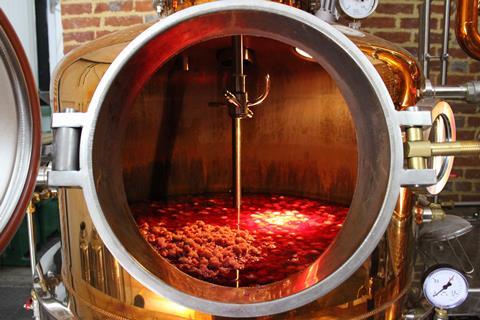 Kentish booze brand Greensand Ridge has created a new spirit made from surplus Ribena berries.
Called Blackcurrant Ghost, it is billed as a "clear, unsweetened spirit which pairs beautifully with tonic and as a base for cocktails".
The brand has no official affiliation with Ribena, but is made with excess fruit from growers that supply the soft drinks giant after it ends pressing for the year in July.
"Growers love working with Ribena as they have a loyal customer who gives accurate quotas to farmers so they know what they need to harvest," said the brand's founder Will Edge. "But they need to maintain a sufficient crop for the best year, so there can often be an oversupply of fruit which isn't harvested."
There was "a steep learning curve this year as the blackcurrant is technically a very difficult spirit to distill", said Edge, but "once we had perfected the techniques – with some helpful advice from some Austrian blackcurrant distillers – we had something we were delighted with".
Blackcurrant "can be a bit of a brute with its intense aroma and associations with childhood drinks", which meant "you don't tend to see it used much in flavoured gins and spirits", said Edge. "The way we distill this, as a classic eau de vie, captures only the most delicate part of the berry and means the spirit has an elegance and refinement suitable for the adult palate."
The drink has rolled into the brand's web store (rsp: £41/70cl).