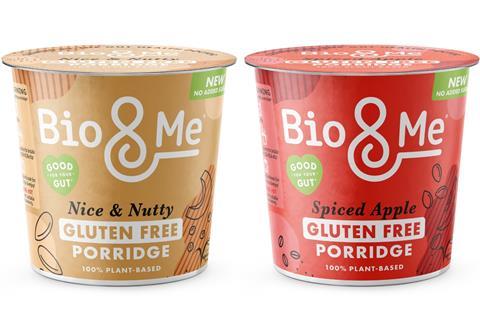 Gut healthy breakfast brand Bio&Me has added a range of gluten-free porridge pots.
Two variants – Spiced Apple and Nice & Nutty (rsp: £1.30/58g) – have rolled into 383 Sainsbury's stores.
In line with the rest of the Bio&Me range, the porridge pots were designed to offer a variety of plant-based ingredients believed to be beneficial to gut health.
Spiced Apple contains 11 plant-based ingredients, including wholegrain oats, apple, almonds, dates and seeds.
Nice & Nutty, meanwhile, comprises 13 plant-based foods, including almonds, hazelnuts, pumpkin seeds and sunflower seeds.
Both are high in fibre with no added sugar.
The pots were developed in response to the "numerous requests" made by shoppers for Bio&Me to bolster its repertoire of gluten-free cereals, said its CEO and co-founder Jon Walsh.
"We are delighted to be fulfilling that demand and offering shoppers two nutritious and convenient gluten-free porridge options that don't compromise on taste," he said.
Bio&Me co-founder Dr Megan Rossi said it was "important to us to offer greater choice to meet the needs of everyone".
It comes after the challenger brand secured a £1.6m investment at the end of last year to support its strategic innovation, marketing efforts and the growth of its sales team.
The brand currently has listings in Tesco, Sainsbury's, Waitrose, Co-op, Holland & Barrett and Boots.