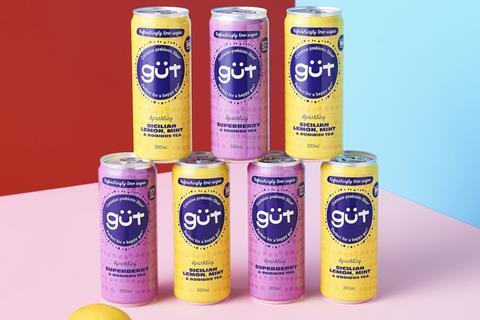 Startup Güt has debuted with a duo of prebiotic sparkling soft drinks.
They are Raspberry, Blueberry & Rooibos Tea and Sicilian Lemon, Mint & Rooibos Tea, which the brand said would be targeted at the mults, on-the-go chains, independents, health clubs and workplaces (rsp: £1.59/330ml).
The drinks contain prebiotic fibre, which is billed as "feeding the good bacteria already there" as opposed to probiotics, which "add new bacteria to the gut".
Güt claimed these were Europe's first prebiotic carbonated soft drinks, and that the Rooibos tea inclusion had "health benefits which have so far been untapped in the UK market".
They are billed as a "rich source" of inulin – a soluble fibre commonly found in chicory root – and contain 33 calories per 330ml can.
The brand was founded by former SAB Miller group director for brand communications Charlie Hiscocks, ex-Heineken Europe MD Andy Routley, brewers Jim Taylor and Paul Hutcheon and postdoctoral research associate Henry Taunt.
The brand said it wanted to "transfer the brewer's approach into soft drinks", and offer "credible and accessible gut health propositions in everyday categories", with an eye to creating further fibre-based NPD down the line.