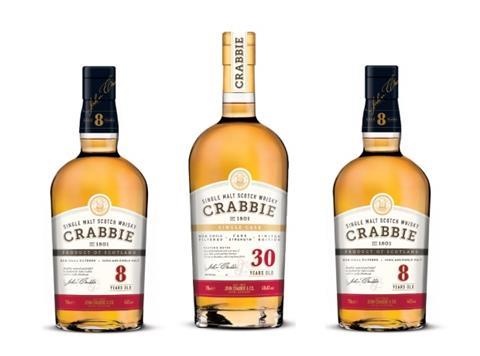 Halewood Wines & Spirits has resurrected long-dormant Scotch whisky brand Crabbie with the impending launch of two single malts.
The new tipples, Crabbie 30 Years Old (48.6% abv) and Crabbie 8 Year Old (46% abv), are the first whiskies to bear the Crabbie name since the 1970s. Indeed, the Crabbie brand is more commonly known for its ginger beer and ginger wine. The 30 Years Old comes with a whopping £500/70cl price tag, and is packaged in a gift box designed to "pay homage to the brand's rich Scottish heritage".
The 8 Year Old, a Highland malt, has a more accessible price tag at £30/70cl. Both will be available from 1 February, with the 30 Year-Old rolling out targeted largely at luxury retailers. Further NPD will follow.
The older whisky was "a fabulous Speyside malt" with "a smooth, mouth filling texture" said whisky writer Charles MacClean, while the younger had "smooth texture and sweet taste, with a medium-length finish".
The spirit for these launches was sourced from other producers, but Halewood is currently building a new distillery for the brand in Edinburgh.
Newly appointed John Crabbie & Co MD David Brown said the new collection and distillery plans would "ensure John Crabbie's impact on single malts will be felt and tasted for years to come".
It comes as Halewood is also diversifying its range of Crabbie's ginger beers with a four-strong range of ginger beer and craft beer blends created with brews from Halewood-owned Black Country brewer Sadler's, the latest of which, a stout blend, hit shelves in December.
The distributor has credited posh spirits - particularly gin - with cementing its turnaround over past years, as well as the binning of underperforming brands and SKUs. Its operating profits were up £2.6m to £4.8m for the year ending 1 July 2017, with revenues up £2.03m to £216m, its latest accounts show. This time two years ago, the business had just posted an operating loss of £8.2m.