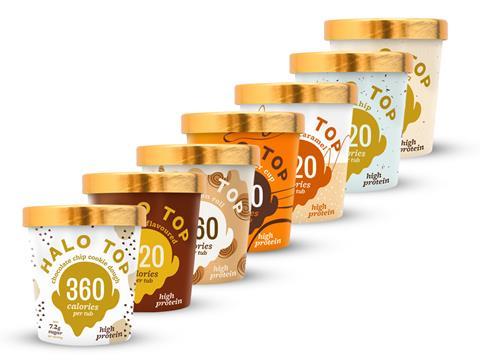 Low-calorie US ice cream sensation Halo Top will hit UK shores on 2 January with listings in Tesco and Ocado, The Grocer can reveal.

The brand has taken the US market by storm, building up a 5% market share since launching in 2012 after reinventing indulgence as 'healthy'. Its products substitute much of traditional ice cream's sugar content for stevia extracts, which serves the dual purpose of cutting calories and carbs.

News of the brand's first UK listings come after The Grocer exclusively announced in October the US sensation would arrive on British shores.

The brand has not set up production in the UK, said a spokeswoman, with ice cream imported directly from the US. Halo Top's full range of 25 flavours features vegan and dairy-free SKUs. However, The Grocer understands they won't all feature in the initial UK lineup.

Flavours confirmed to make up the range available in the UK are:

* Sea Salt Caramel

* Vanilla Bean

* Chocolate

* Mint Chip

* Peanut Butter Cup

* Chocolate Chip Cookie Dough

* Cinnamon Roll

Ranging from 280-360 calories per pint, Halo Top's rsp is set to be in the range of £5.49 to £5.99, added the spokeswoman.

Some experts have expressed doubts about whether Halo Top will be able to recreate its success abroad, with established competition already in place and word of mouth a huge factor in its US success.

The brand will face competition from low-cal ice cream startup Oppo, while Unilever has also announced the launch of its Breyers Delights range in the UK. Both Breyers and Halo Top feature high-protein, low-calorie claims, with nutritional information prominently displayed front of pack.