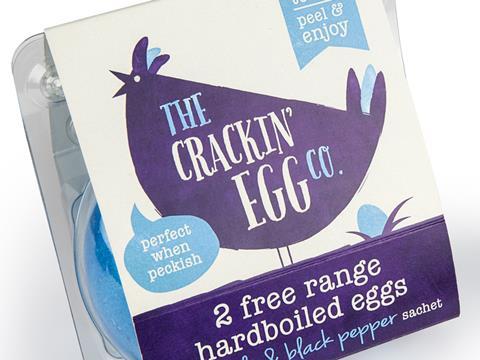 First the Dippy Egg and Yowk! brands attempted to sell easy-to-boil eggs - now The Crackin' Egg Co is launching a hard-boiled egg snack.

The new line will go on sale in Ocado later this month and consists of a free-range hard-boiled egg encased in a colourful waxing that "seals in all the goodness and keeps it fresh for a month", according to co-founder Robert Shaw.

The product is the latest attempt to crack the egg-as-a-snack trend. Neither Dippy Egg nor Yowk! have so far got traction with the mults. However, a number of retailers and foodservice operators have offered hard-boiled eggs as snack products, including Pret a Manger's Egg & Spinach Protein Pot and Abokado's Veggie Power Pot, with retailers also offering food-to-go ranges including ready-to-eat quail's eggs.

Shaw claimed the Crackin' Egg Co was different due to its waxy coating, which replicated the protective protein that surrounded an egg before it was boiled, and could be peeled off before being eaten. "We've seen a lot of boiled eggs as snacking options on the market recently, but the quality deteriorates almost immediately without that coating," he said.

"What we are doing is different as the coating replicates nature's protection of the egg."

The eggs, which are laid and manufactured in Germany, are produced to a higher standard than British Lion eggs, claimed Shaw, and will be sold in twin-packs with a choice of salt & black pepper, sweet chilli, or sour cream seasoning (rsp: £1.59) or in a six-pack without seasoning (rsp: £3.49).

The typical size of hens' eggs' made them a good portion for a snack, said Mintel senior food and drink analyst Richard Ford.

This factor, along with their high protein content, meant they should appeal to the 14% of consumers looking for snacks that are high in protein.

"Given their relative lack of flavour, and the importance of taste to consumers in buying food generally, pairing them with appealing flavours should [also] enhance their appeal," Ford added.

The protein-based innovation comes as the British Egg Industry Council revealed earlier this month that retail sales volumes for shell eggs had risen by 6% for the first three quarters of 2015, putting them on track to eclipse records dating back to the 1950s.

BEIC chairman Andrew Joret said young people aged under-34 were purchasing 31% more eggs than they did in 2008, while separate research suggested concerns over cholesterol and eggs were fast disappearing - with 42% now believing it was OK to eat six or more eggs a week, up from just 19% in 2008.