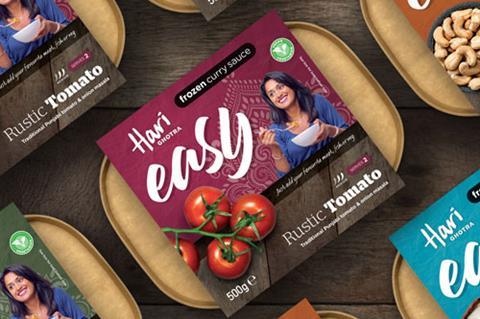 Celebrity chef Hari Ghotra has launched a frozen curry sauce brand.
Called Hari Ghotra Easy, it comprises four sauces: Exotic Coconut, Aromatic Almond, Rustic Tomato and Creamy Cashew (rsp: £5/500g).
Exotic Coconut is billed as delivering the "coastal flavours" of South Indian cuisine, while Aromatic Almond "boasts the fragrant Mumbai culinary style with a creamy, mild profile".
Rustic Tomato, meanwhile, was "bold and brash" while Creamy Cashew "brings warming North Indian flavours with rich whole spices", said Ghotra.
The sauces are all additive and preservative-free, suitable for vegetarians, and can be cooked from frozen. Each pack serves two to three people and carries a QR code through which shoppers can access a range of recipe suggestions.
The sauces are said to be "cooked with fresh ingredients just the way Hari makes them at home and when they reach perfection they are flash frozen to lock in all the fragrances of the aromatic spices".
"This means that those special layers of flavour that Indian food is known for stay confined in the sauce. The process requires nothing extra to be added to enhance the flavours or to preserve the sauces."
Ghotra partnered with manufacturer Food Attraction for the launch, which created the sauces in its Leicester facility.
They are available direct from Ghotra's website.