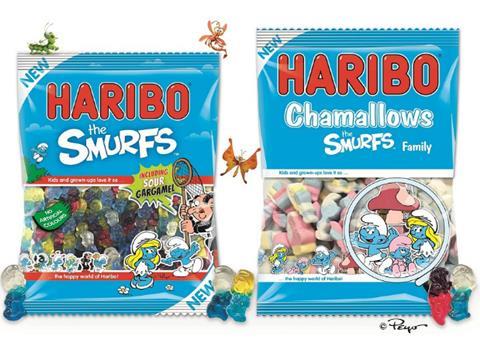 The Smurfs lineup from Haribo has been given an overhaul ahead of the new animated movie starring the blue Belgian characters.
As part of an ongoing licensing agreement with IMPS, the Smurfs' commercial arm, Haribo has unveiled evil wizard Gargamel in sour cherry flavour to create the range's first sweet and sour variant.
Rolling out ahead of the 31 March cinema release of Smurfs: The Lost Village, the NPD also contains Smurf-shaped jelly pieces including Grouchy, Brainy and Jokey in strawberry and raspberry flavours, and Smurfette in lemon and raspberry. A selection of SKUs will include a 160g PMP of £1.
Chamallows Smurfs Family will join it in store as a 140g PMP for £1 containing shapes including a Smurfs Mushroom House in vanilla and raspberry.
"Haribo Smurfs has driven a great deal of excitement among consumers and retailers, and continues to deliver consistently year on year," said the confectioner's manager for lead brands, Alison Satterthwaite.
The range benefited from broad appeal and was a product "loved by adults and children alike", she added.