Male grooming brand Harry's expanded its haircare offer with a five-strong lineup for scalp care.
Three variants of Shampoo & Conditioner – Dry Scalp, Anti-Dandruff and Extra Strength Anti-Dandruff – are made with the likes of aloe vera, black pepper and jujube bark extract (rsp: £8/414ml)
They are joined by Scalp Scrub, meant for use once a week, and Scalp Cream for everyday use (rsp: £9/414ml), which feature ingredients such as tea tree oil, grapefruit seed extract and aloe vera.
The new range is sulphate-free, and is available from Harry's website.
The NPD came in response to "54% of guys agreeing it's hard to figure out which anti-dandruff products are best for them", said Harry's, which began as an online shave club.
The latest launch was part of the US brand's ongoing mission to satisfy "guys' unmet needs across other categories in men's care, including body and hair" it added.
"Finding the right dandruff treatment can be complicated. That is why we created a line of products that address varying degrees of dandruff, dryness, itchiness, and flakes without the trade-offs associated with dandruff care – the use of harsh chemicals, a synthetic smell, over-drying, and residue."
The new range follows Harry's overhaul earlier this month of its razors, making the blades sharper with an improved lubrication strip, freshening the handle's choice of colours, and making packaging plastic-free.
Bluebeard's Revenge overhauls packaging
Men's grooming brand The Bluebeards Revenge has marked its 10th anniversary by unveiling a packaging rebrand aimed at improving recyclability and reducing waste.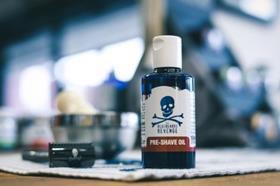 The first product to receive a makeover is the supplier's best-selling Pre-Shave Oil (pictured left), which now comes in a 100% recycled plastic bottle with a newly designed label.
It will be followed by other green packs, including a 150ml aluminium tin to replace the current 100ml plastic tub The Bluebeards Revenge uses for its shaving and styling lines. The tin was reuasable and "infinitely recyclable" the brand said.
The revamp would help The Bluebeards Revenge "drastically reduce the amount of virgin plastic and single-use packaging" by 2022, it added.
The brand's MD, David Hildrew, said: "The world around us is changing. As an established global brand, we have a responsibility to ourselves and our customers to do as much as possible to minimise any negative effects on the environment."