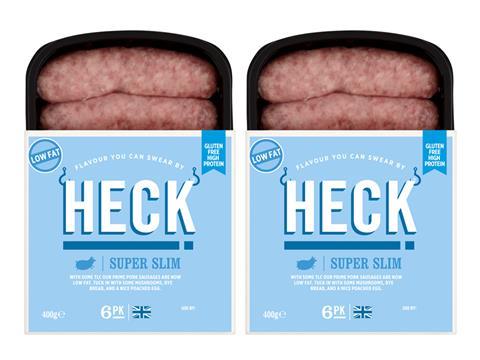 Heck has jumped on the low fat sausage bandwagon with the launch of Heck Super Slim sausages.

Available from from 28 June in 500 Sainsbury's (rsp: £3/400g), they are made with British pork and contain 2.7g of fat and 157 calories per 100g.

It follows similar launches of low fat sausages by G White & Co's Porky Lights in 2016 and Finnebrogue Artisan earlier this year.

Porky Lights became embroiled in a media frenzy in March, after third-party testing suggested its sausages contained a significantly higher amount of fat than it declared on pack. The brand denied any wrongdoing, and invited Trading Standards to test its product in the wake of the claims.

However, Heck said the controversy had not affected its decision to enter the low fat segment.

"Since launching our low fat chicken sausages three years ago, it's always been in the plan for us to create a credible, low fat pork sausage," said Heck co-founder Andrew Keeble.

"It's been more of a challenge to strike the right balance between low fat, great taste and decent meat content, and we didn't want to launch until we were certain we'd got it right," he added.
"Although all sausages need a little fat to make them taste good, we've hit on a recipe that has far less fat without compromising taste and Sainsbury's has really got behind it. We're looking forward to getting the sausages on shelf and finding out what our customers think."
Heck opened a new £3.5m manufacturing plant in North Yorkshire in April, creating 50 new jobs. Keeble said the new plant would help Heck increase capacity and expand its product range.