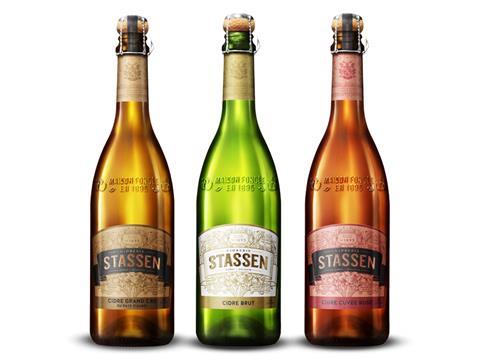 Heineken has partnered with Sainsbury's to trial 'super-premium' Stassen Cidre in the UK.

The three-strong range, available from next week, comprises Brut - a blend of apples with a touch of pear juice - and Cuvée Rosé - a pink cider made using red-flesh apples with subtle notes of red berries (both 7.4% abv) as well as Grand Cru, an 8.2% abv tipple described as delicate and fresh with a long fruity finish.

The trio is being rolled out exclusively into 244 Sainsbury's stores on a trial basis next week. It will be available in a 750ml corked bottle format (rsp: £8-£10).

The drinks were aimed at 30 to 45-year-olds who "seek out the good things in life", a Heineken spokeswoman said.

Produced in the Belgian Vallée d' Aubel, where the Stassen family has made ciders since 1895, Stassen Cidre was ideal for drinking with food and "best served in a flute" to enhance its aroma and taste, said Heineken, which acquired the cider producer in 2012.

The trial in Sainsbury's will be supported by in-store activation and PoS activity from April focused on "the rich ­heritage" of the Stassen family.

Heineken will be aiming to boost the £1bn cider & perry category, which saw £29.4m wiped off sales last year - a 2.8% drop on volumes down 3.2% [Nielsen 52 w/e 10 October 2015].

The brewer's £201.3m Strongbow Original, the biggest brand, drove the decline with sales down 4.1%, a stark contrast to Strongbow Dark Fruit, which was up 14.2% to £60.8m.