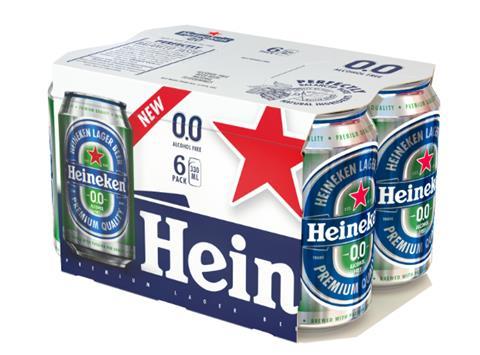 Heineken has unveiled a new zero-alcohol lager designed to appeal to the growing number of Brits cutting back on booze.
Created by the supplier's global master brewer Willem van Waesberghe, Heineken 0.0 is set to roll out this month, promising "refreshingly fruity notes and a soft malty body", with just 21 calories per 100ml.
The o% abv beer will be available in two SKUs "to meet key occasions": 4x330ml bottle (rsp: £3.25) for "planned social occasions", and a 6x330ml can (rsp: £4.50) for the "casual night in".
Backed by a £2.5m investment kicking off in May, the beer was aimed at health-conscious younger drinkers, and had been created in response to growing consumer trend towards moderate alcohol consumption, said Heineken. However, ATL would not focus on the low calories.
While around half of Brits moderated their alcohol intake, with milennials leading the way, only 47% were satisfied with no-alcohol options and were looking for a "trusted global premium brand to enter this segment with a better tasting product", the Dutch brewing giant added.
The NPD was a "fantastic-tasting beer," said the supplier's premium brands director David Lette. "Our master brewer is so confident in Heineken 0.0 that he has given it his seal of approval. We really can say it's the best-tasting no-alcohol lager."
The launch follows a raft of Heineken NPD in recent weeks, including the Maltsmiths craft beer range and the higher-abv Dos variant for its tequila-flavoured Desperados.