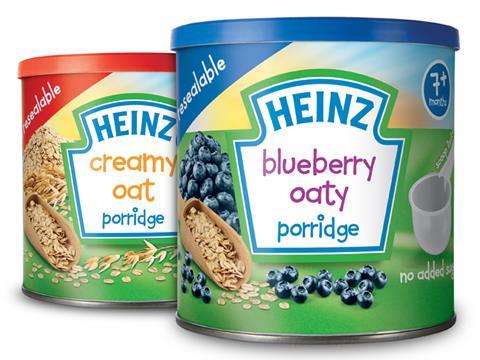 Kraft Heinz has re­vamped its entire Heinz infant breakfast range with new 'tub and scoop' packaging and an increase in pack size.

Available from this month, the revised format replaces the 'bag in a box' combination. The change was driven by market research suggesting infant-feeding at breakfast could be simplified, said the company.

The new look introduced "ease and convenience to breakfast time for mums", allowing them to monitor portion size with the measuring scoop and re-seal the tub to minimise waste and keep the food fresh, it claimed.

"The new tub and scoop packaging has been specifically designed to make breakfast time a breeze," said Meena Patel, Heinz infant brand manager.

Prices are unchanged, but Heinz has upped the pack size to offer better value after finding consumers were switching to cheaper breakfast alternatives, despite not offering the same nutrition as food specifically made for children. Rsps are £2.99 (240g) and £1.99 (140g/baby rice only).

The Heinz infant breakfast range caters for ages four to 10 months, with each tub featuring a colour-coded lid to denote the suitable age. It includes 10 flavours, with no added sugar and 12 "key vitamins and minerals".

The launch will be supported by in-store and digital media activity.