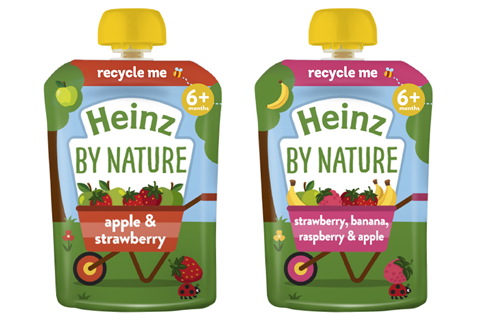 Kraft Heinz has launched a recyclable pouch for its babyfood.
The new pouches are made entirely of polypropylene, which can be disposed of in regular recycling collections.
The innovation – which was devised in collaboration with Tesco's technical team and recycling charity Recoup – would save nearly 20 tonnes of plastic from going to landfill each year, said Heinz.
The packaging is set to roll out across all six of its Heinz for Baby fruit pouches. They will be available to all major retailers in 2022.
On-Pack Recycling Labels (OPRL) will feature on the packs "to guide and reassure parents", it said.
Not every UK council yet has the capacity for full kerbside recycling of polypropylene pouches.
However "according to the Recoup UK household Plastics Collection Survey of 2020, 85% of UK local authorities collect this material through their household recycling collections", said OPRL.
The move comes as part of Heinz's global commitment to make 100% of its packaging recyclable, reusable or compostable by 2025.
The new pouches would "offer parents of little ones the convenience coupled with sustainability they always wanted", said Kraft Heinz Northern European president Jojo de Noronha.
Challenger brand Piccolo became the first supplier to launch a 100% recyclable babyfood pouch in April 2021. However its polypropylene packs came with high density polyethylene caps.