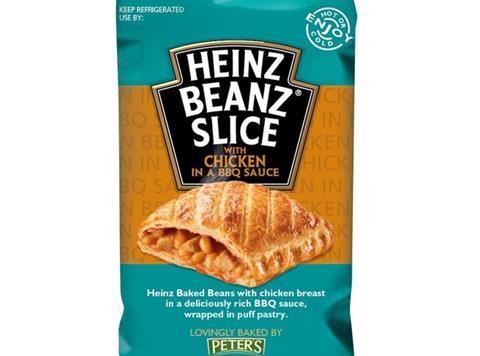 Peter's Food has extended its range of Heinz chilled savoury pastries with four new products.
The new products, rolling into Asda from 20 April, comprise a Heinz Beanz with Chicken & BBQ Sauce pastry slice, two new sauce-topped pork sausage rolls – one with Heinz Firecracker Sauce and the other HP Texan Style BBQ - together with a multipack format of Heinz Beanz with Cheese pockets.
The pastries, which are made and sold under license by Peter's Food, were suitable for eating hot or cold, said Heinz marketing executive Marco Marioni. "Convenience food continues to be a wide market and our new sausage rolls and slice give consumers even more interesting flavour options and choice on the go," he added.
The Heinz Beanz with Cheese pockets multipack would allow consumers to "enjoy more varied meal occasions", he said.