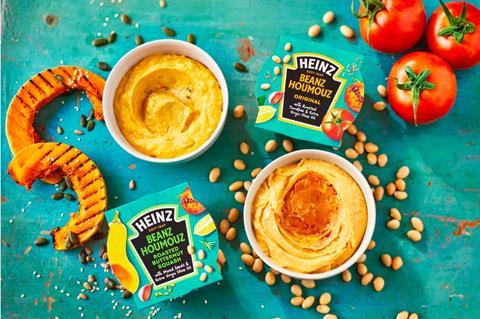 Heinz is taking Beanz into houmous.
It has unveiled the chilled Beanz Houmouz, which is made using the brand's beans instead of the chickpeas traditionally used in the dip, claimed to give the final product a "creamy" texture.
Two flavours – Original and Roasted Butternut Squash – have rolled out. The former blends haricot beans with roasted tomatoes, sesame tahini and extra virgin olive oil and is seasoned with lemon juice, garlic, cumin and topped with tomatoes (rsp: £2).
The latter, meanwhile, is blended with roasted squash, tahini and olive oil, then seasoned with garlic, lemon juice, rosemary and topped with sunflower, pumpkin and sesame seeds.
The launch marks the latest in a series of expansions into new categories for the ubiquitous baked beans brand – a bid on the part of Heinz to make the brand appeal to a wider audience and lure younger shoppers to it.
The business was "in the midst of a Beanz revolution, finding new and exciting ways consumers can enjoy our beloved Heinz Beanz with new tastes and textures", said Kraft Heinz new ventures director for Beanz liberation Lucila Ardalla.
These have already included NPD such as a range of Beanz Burgers and on-the-go breakfast pots. When interviewed in 2021, Kraft Heinz Northern Europe president Jojo de Noronha told The Grocer the brand would also make its debut in frozen.
She said at the time she wanted to turn Beanz into "the new avocado" by playing up their "superfood" credentials, dubbing the NPD pipeline "the Beanz liberation exercise".
Heinz has been busy with other launches outside the Beanz brand. In 2020 it founded its New Ventures Division, a wing of the business dedicated to innovation and stretching its brands into new categories.
The division has spearheaded other launches as well as Beanz NPD. In January 2022, for instance, it rolled out a range of Made for Veggiez sauces designed specifically to pair with plant-based meals.
Then in February it mounted a major challenge to Dolmio and Loyd Grossman with a Heinz-branded range of pasta sauces aimed to showcase "innovative, exploratory flavours".
Beanz Houmouz has rolled into Ocado.