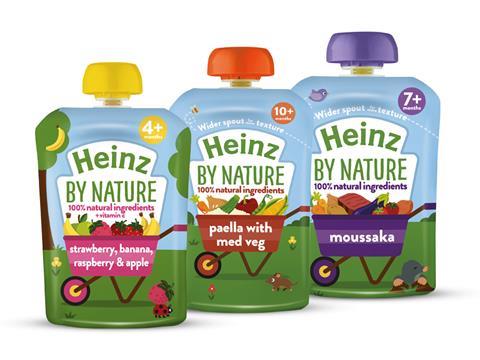 Kraft Heinz has given its wet babyfood portfolio a major overhaul with a focus on all natural ingredients – although the range will still include plastic packs.
Aiming to "transform parents' perceptions about prepared food for babies", Heinz By Nature is the result of more than 18 months' development. Research by Kraft Heinz found 57% of parents worried about the ingredients of prepared babyfood, while 50% felt it compromised on quality.
More than 50 ambient meals featured no processed ingredients or anything that "couldn't be found in the kitchen at home" said Heinz. That has seen sunflower oil replaced with extra virgin olive oil, and concentrated fruit puree is no longer used. Added fortifications have been dropped except in the fruit pouches, where vitamin C is added to replace that killed by sterilisation.
With variants for weaning stages one, two and three, By Nature, renamed from Heinz For Baby, is suitable for children aged between four months and 36 months.
Set to begin rollout on 5 February, each product is colour-coded by age stage through cap colour and age flash.
Parents "would ideally feed their little ones homemade from fresh but know this isn't always possible" said Heinz marketing manager Francesca Mattiussi. "This new offering is as close to parents' demands as possible."
By Nature will be available across plastic pouches, pots and trays as well as glass jars. The choice of formats would "meet parents' needs at every occasion", said a Heinz spokeswoman.
On the issue of plastic, she insisted the company took "full environmental impact into consideration when making packaging choices, including the effects of food waste."
The introduction of Heinz By Nature will be supported by a £1.5m campaign.