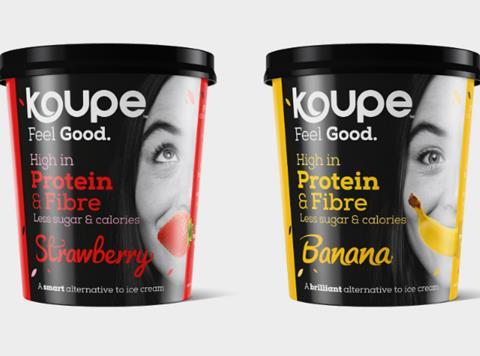 High-protein ice cream brand Koupe is making its UK debut, two years after its founding in The Netherlands.
Made with whey protein and milk rather than cream, the four-strong range contains between 12g and 13.3g of protein per 100g (depending on variant) and an average of 2.8g of fat. It provides no more than 170 calories per 100g, while sugar is a maximum of 11.2g.
Koupe's four variants – Clever Chocolate, Brilliant Banana, Victorious Vanilla and Smart Strawberry – are available through Ocado (rsp: £5.49/500ml). They were aimed at the £66m sports nutrition market, said the brand, which is available in 400 supermarkets across Europe and was named best ice cream at the 2016 World Dairy Innovation Awards.
"With a growing appetite for healthy treats and a rising number of consumers looking for tasty protein products, we're delighted to bring Koupe to the UK market," said founder Jaco Pieper.
The "guilt-free" brand had "big plans" for securing supermarket listings this year, he added.