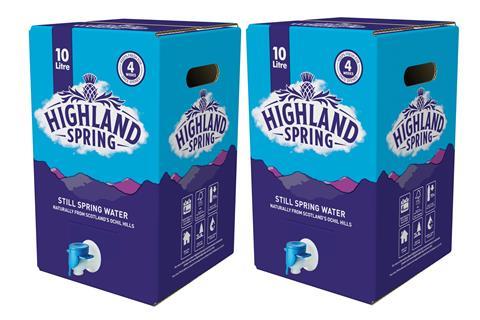 Highland Spring is looking to claw back sales after a difficult year for the brand - and the category - with a new 10l 'hydration pack' aimed at 'staycations' and big weekly shoppers.
The water brand saw a quarter (25.6%) of its sales wiped away by the pandemic last year, as on the go and impulse sales dropped, its value falling an eye-watering £36.9m to £107.3m, on volumes down 5.62%, exclusive figures reveal [Nielsen 52 w/e 30 January 2021].
Highland Spring head of marketing Carol Saunders told The Grocer the drop in sales was "mostly due to the reduction of on-the-go locations and missions during the pandemic, which has led to fewer shoppers taking advantage of the impulse occasion at front of store".
"The reduction of on-the-go missions during the pandemic has impacted the entire bottled water category at the front of store. However, looking at volume performance, it is clear that consumers continue to choose natural source water simply shifting from single units to larger bottle formats and multipacks, due to the different occasions available to them," added the brand.
It has begun the fightback with a new 10l hydration pack it hopes will make it "easier for shoppers to stay hydrated across a whole range of occasions", Saunders added.
The NPD would tap "into this change in consumption behaviour and we are genuinely excited to introduce a completely new and innovative format to the brand within the grocery channel".
This included luring the increasing number of Brits looking to go on 'staycations' this year rather than travel abroad, as well as shoppers doing a big weekly shop – both trends that had already led to growth in other categories such as wine, said Highland Spring.
It added the new 10l pack would appeal to shoppers wanting to drink it at home, for social gatherings, decanting into smaller bottles, for using at picnics and barbecues and for camping and caravan holidays.
"We have all seen the shopper landscape shift considerably since the Covid-19 pandemic hit. We have responded by innovating and adapting our product portfolio to deliver a format for every occasion, from on the go to at-home decanting," said Saunders.
The pack has a "much longer shelf life" than other formats, said Highland Spring, keeping fresh for around four weeks once opened compared to a single bottle of Highland Spring which has a seven-day shelf life.
It will launch into the mults this month (rsp: £4.75/10l)