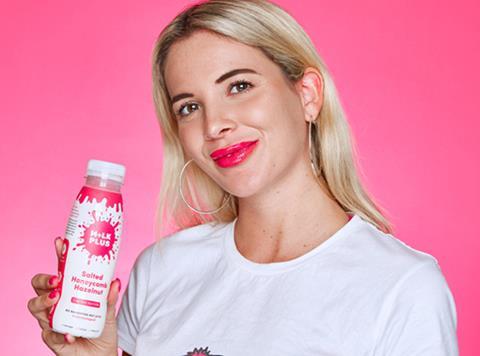 The runner-up of The Apprentice is launching her nut milk brand M+LKPLUS with Holland & Barrett in the new year.

The gourmet vegan 'milk' is dairy-free, made without sugar, stabilisers or emulsifiers and comes in a range of flavours. It is designed by M+LKPLUS founder Camilla Ainsworth to be a healthy treat for consumers on the move.

The first variety hitting Holland & Barrett shelves nationwide will be the limited edition Salted Honeycomb Hazelnut flavour. This is made with hazelnuts blended with filtered spring water and fortified with vitamin D and calcium.

The listing follows Holland & Barrett MD, Steve Carson, appearing as a judge on the final episode of the TV show last week.
"M+LKPLUS is not only a truly great tasting vegan 'milk', but the brand Camilla has created is so strong that I immediately knew I wanted to be the first retailer to stock it," Carson said. "The nature of the product is synergistic with the trends of today's society as health becomes less of a trend and more of an expectation. Similarly, the dairy-free juggernaut shows no signs of slowing down, as ethics play more of a role than ever in consumer food and more people are turning vegan. We're proud to be able to work with Camilla on this nationwide launch and can't wait to hear what consumers think."

Ainsworth added: "The brand was originally created to fulfil a personal need when I was diagnosed as dairy intolerant and was wholly uninspired by the unnatural alternative 'milks' on the market. It wasn't long before I had the idea to create a super playful grab & go nut 'milk' to cater for busy millennial lives, in a variety of nut choices and flavours. Having the opportunity to meet Holland & Barrett's MD Steve Carson through my time on The Apprentice was a real game-changer for me and I couldn't think of a better retailer to launch it with."

M+LKPLUS will launch in Holland & Barrett stores nationwide from early January at £1.99 for each 330ml bottle.