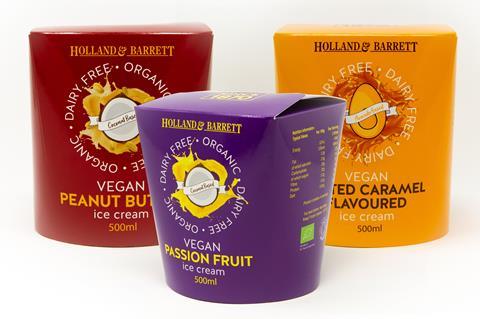 Holland & Barrett has launched a range of three own-brand vegan ice creams in response to growing demand for plant-based items.

The health food and supplements retailer has introduced the peanut butter, passionfruit and salted caramel flavour lines (rsp £3.99 /500ml) "as a vegan alternative to brand favourites such as Halo Top".

The products are dairy-free and organic, and while the peanut butter and passionfruit variants are coconut-based, the salted caramel flavour is made using avocado. The latter is just 103 calories per 125ml per serving, followed by passionfruit at 108 calories, and peanut butter at 138 calories.
Holland & Barrett introduced the range in all 715 UK branches with a buy one get one half price promotion.

Packaging design for the ice cream ties in with the retailer's commitment to reduce waste from its own-label lines, as it features a sealable top rather than separate lid. This is designed to reduce the amount of packaging needed for each tub.

"Avocado and coconut act as the perfect alternatives to dairy in ice cream, bringing a host of health benefits to the range," Holland & Barrett nutritionist Amy Tolofari told The Grocer. "Avocado's buttery texture means you get the same creamy consistency as you would expect from normal ice cream, with none of the dairy."