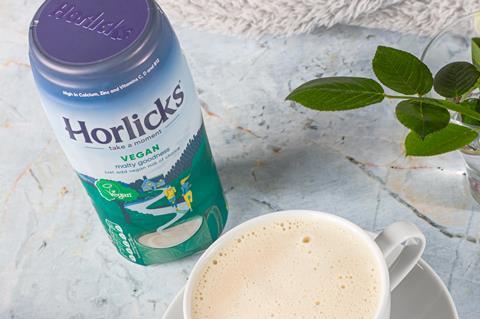 Horlicks is jumping on the vegan bandwagon.
The malt drink brand has entered the free-from category with a Vegan Society-approved version of its core Horlicks Original drink, which has rolled into Asda's new ambient vegan bays (rsp: £3.49/400g).
The taste of the drink was "based on the delicious taste of Horlicks Original, meaning consumers can add their favourite preference of dairy alternative milk, from almond to soy, coconut or oat milk", said the brand, which is recommending the SKU be paired with "popular barista alternatives".
Horlicks Original uses dairy ingredients such as whey and skimmed milk powder.
The new formula was "not just applicable for vegans but has been developed to cater for those who have dairy allergies", said Horlicks marketing manager Michelle Younger, adding it "still delivers a high recommended daily allowance of vitamins and minerals".
Asda unveiled its ambient vegan aisles at the end of September, touting the move as a time saver for vegan shoppers. Horlicks isn't the only big name to hit the new bays: the likes of Mrs Crimble's, Vego, Bosh and Galaxy have all debuted new products to mark the bays' debut.