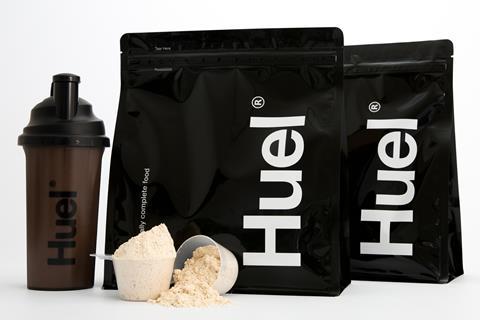 Huel, the fast-growing 'complete nutrition' brand, has unveiled a reduced carb range called Black Edition.
Initially available in two variants of powdered meal, Vanilla and Chocolate (rsp: £50/1.5kg), the NPD contains 19g of carbs per 100g – half the amount of Huel's core powders. Sugar content is 5.6g per 100g.
Huel Black Edition is made from sustainable ingredients including pea protein, flaxseed, brown rice protein, sunflower and coconut – all of which provided "the perfect amino acid profile and a good balance of essential fats" claimed the brand.
"The revolutionary formula boasts probiotics and prebiotics, while kombucha and green tea extract have been introduced for additional natural nutrients."
Containing no artificial sweeteners, each 90g portion of Black Edition powder offers 40g of plant-based protein (44.4g per 100g), as well as "26 essential vitamins and minerals, along with a good balance of protein, carbohydrates, fibre, omega-3 and omega-6 fats you need on a daily basis".
"One of the core principles at Huel is to make customers happy, leading us to exciting new product innovations," said Julian Hearn, the brand's co-founder.
It comes after Huel made its offline debut last autumn. It rolled into Sainsbury's in September, having launched in 2015 as a direct-to-consumer service.
In November, the Tring-based business reported turnover of £39.8m for the year ended 31 January 2019 – a 184.3% increase on the previous 12 months.