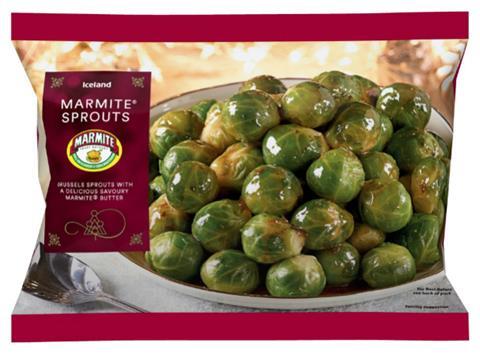 Iceland and Unilever have teamed up to roll out the first-ever official Marmite Sprouts.
The new product will land in freezers from 19 November, exclusively to Iceland. It promises a flavour combination that "draws out the natural sweetness of Brussels sprouts, while suppressing some of their bitterness".
The launch of Marmite Sprouts (rsp: £1.50/400g) – previewed at Iceland's Christmas ranging event in the summer – was an effort to rekindle the UK's love of sprouts, said Unilever. It comes after research commissioned by the supplier found consumers were likely to eschew the veg in favour of Tenderstem broccoli, cauliflower cheese and sweet potato fries with their Yuletide dinner.
"Over half of the Brits we surveyed think Brussels sprouts could completely disappear from Christmas plates across the UK," said Unilever licensing director Chloe Irwin.
Marmite Sprouts – the yeast extract's first frozen licensed product – was "sure to create a guaranteed talking point throughout the festive season" she added.
Iceland was "excited to be bringing this new flavour combination to customers" said the grocer's head chef, Neil Nugent. It hoped to encourage "more people to enjoy sprouts in this must-try dish".