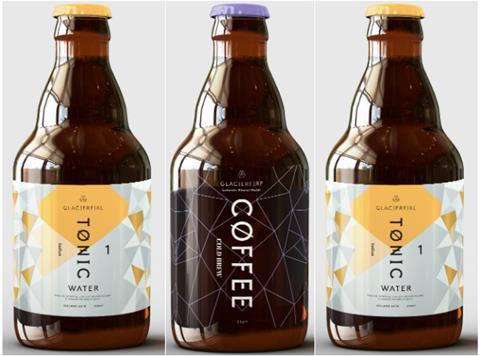 Icelandic drinks brand GlacierFire is to make its UK debut this summer with a premium portfolio that comprises soft and alcoholic beverages.
Made with glacial spring water from Iceland's Bláfjöll volcanic mountain range, GlacierFire produces spring water, tonic water, lemonade, cold-brew coffee, kombucha, beer and spirits. It expects its drinks to be available from July in "high-end boutique drinks outlets and premium product outlets such as Harvey Nicols, Harrods, Waitrose and M&S".
Rsps will range from £1.11 for a 500ml PET bottle of still water to £52.16 for gin in a 500ml glass bottle.
GlacierFire's waters and beers are equipped with a thermo-reactive cap that changes colour when the "ideal consumption temperature" of 3.5°C has been reached.
The brand's spirits are distilled seven times and designed for gifting: Valhalla Gin is packed in a "phallic Viking horn", while Vodka Gold – infused with 24 carat gold – is packed to resemble "a block of clear glacial ice".
The key to the drinks' quality was the glacier water that was "almost as pure as distilled water", GlacierFire co-founder Priyesh Patel told The Grocer. It allowed flavour "to come through in its purest form", he said. "There is most definitely a huge difference between using normal water and Icelandic glacial water."
The brand's offer also includes a lineup of tea flavoured with Icelandic berries, seeds, herbs and moss. It will be available in the UK with an rsp of £9.68 for ten bags.