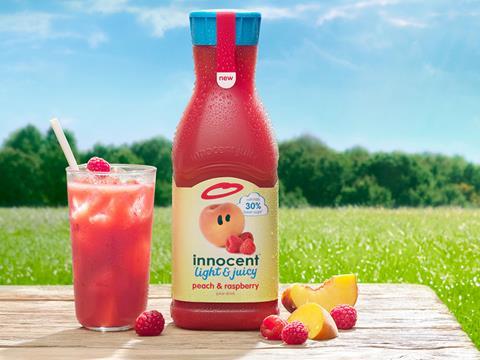 Innocent is entering the reduced-sugar market and looking to tap the boom in flavoured waters with a new range.

Rolling out to Asda this week, Light & Juicy comprises three recipes: orange & clementine; pineapple & lime; and peach & raspberry, sold in a 900ml carafe (rsp: £2.39). Billed as being '30% lower in sugar', the drinks contain between 6g and 6.5g of sugar per 100g compared with the 8.9g in Innocent's tropical juice and 10g in its apple, peach and pear juice. The Light & Juicy drinks have no concentrates or artificial sweeteners and are made from a blend of fruit, water and "a dash" of coconut water, said Innocent.

Coconut water made the drinks more indulgent than a squash, said marketing & innovation director Tim Clarke. "When you have water in the mix it can taste quite diluted," he added. "You don't really taste the coconut water but it lengthens the taste of the drink."
He added Innocent had been determined not to compromise on taste with the products, which target existing Innocent consumers and are designed to attract new consumers who drink squash and flavoured water. "We looked around the UK and the rest of the world and at how people had addressed concerns around sugar, and felt that sometimes it felt like a knee-jerk, linear response," he added. "We will not compromise on taste we looked at different ingredients, such as stevia, but felt it didn't offer the taste we wanted."
Light & Juicy will be next stage of that; it gives us greater confidence that people will stay within the brand and we hope will trade some people from squash and waters
Despite packs carrying a flash stating "Naturally 30% lower in sugar", Clarke said the launch was as much about offering a "different kind of drink that opens new occasions at a time we want to grow and the category needs to grow".

Juice and juice drink category sales fell have come under pressure from consumer concerns over sugar, which contributed to a 5.5% fall in volume last year [Kantar Worldpanel 52 w/e 4 Jan 2015]. Innocent sales fell 10.8% over the period [Nielsen] but Clarke said the brand had returned to growth and benefited from launches such as coconut water in March. "Coconut water is well ahead of forecasts and our Super Smoothies are doing well for us, which is compensating for some of the changes we are seeing in the mix," he added. "We are also seeing huge growth in Continental Europe."

The UK was Innocent's most challenging market, admitted Clarke, but he said "innovating forward" was making a major difference.

"Light & Juicy will be next stage of that; it gives us greater confidence that people will stay within the brand and we hope will trade some people from squash and waters, which is a great category story for retailers and obviously drives our growth too."

Light & Juicy rolls into Waitrose later this month, and will go into Sainsbury's and Ocado in September.