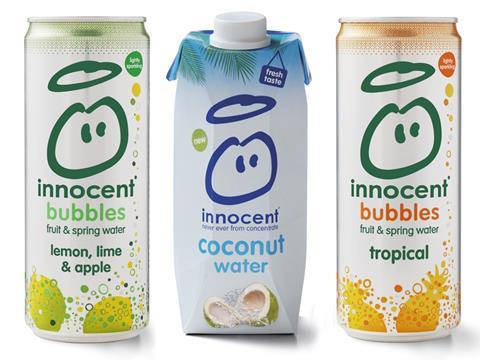 Innocent has unveiled a raft of NPD including its expansion into coconut water and carbonates.

It is this week rolling out coconut water in one-litre (rsp: £3.69) Tetra Pak cartons across the major retailers, with some also taking a 500ml format (rsp: £2.49). Innocent was working with a new third-party production partner, and the product was chilled at all stages to prevent the need to add sugar or preservatives, said Innocent CEO Douglas Lamont, adding the launch would drive category penetration.

"This is just 2% in the UK, compared with about 9% in the US," he said.

The launch also means Innocent is going head to head with Vita Coco, which claims 89% of the UK market and is led in the UK by Giles Brook, former commercial director at Innocent. Brook said Innocent joining the £85m category was good news. "A brand of its calibre demonstrates the immense potential associated with this category," he added.

Innocent is also this week launching its first carbonated products - the two-strong Bubbles range comprising 330ml slimline cans in tropical and lemon, lime & apple flavours (rsp: £1.49).

The drinks are a mix of fruit juice with about 40% spring water, with Lamont saying the relatively high juice content was in order to avoid adding other sweeteners.

Targeted initially at out-of-home, they roll out to Starbucks ahead of Boots and WH Smith.

And Innocent is this week expanding distribution of the cold-pressed juices trialled in Starbucks last year. They will now be available to retailers with an rsp of £2.99 for a 330ml bottle.

The activity follows a 10.8% slump in value sales of Innocent in 2014 [Nielsen 52 w/e 4 January 2015] as the war on sugar took its toll. The new lines - lower in sugar than Innocent juices and smoothies - were designed to offer wider choice, said Lamont.