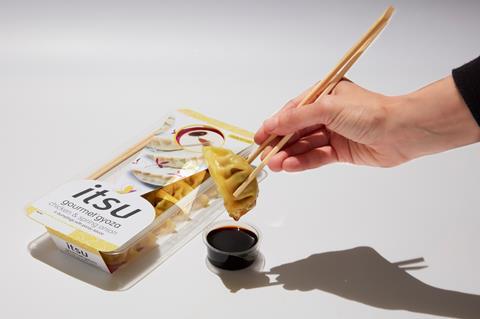 Itsu is moving into the chilled category for the first time with a trio of food-to-go products.
A katsu dish and selections of bao buns and gyoza dumplings – all inspired by Itsu's restaurant menu – will roll out in front of store and heat to eat fixtures at supermarkets nationwide.
Its Lucky Katsu Hotsu'Potsu, which contains the brand's "bestselling" vegetable fusion gyoza, rice noodles, vegetables and a katsu broth, has already hit shelves at Tesco (rsp: £2.75).
The Bao'Buns – available in Spicy Veg and Hoisin Duck variants – and its Gourmet'Gyoza will roll into Waitrose on 21 June (rsp: £3.50).
The launches marked a "major milestone" for the brand, which plans an expansive rollout into the category this year, it said.
Itsu said it was aiming for 50% growth in its chilled products to meet post-pandemic consumer needs, catering to an increased demand for "restaurant-quality, convenient, Asian-inspired lunch options".
Itsu founder Julian Metcalfe said the range would answer requests from customers to make its restaurant products available in supermarkets.
Although it seemed like an "obvious next step" for the brand, "it's taken us years to develop food to-go products that are just as incredible as the dishes we serve in our restaurants", said Metcalfe.
The news follows reports of surging sales for the brand's grocery products, which includes a frozen gyoza range and its 'Brilliant Broth'.
It comes as sales of Itsu grocery products surpassed the £20m mark last year, a 59% increase on 2019.
Itsu isn't the only high-profile Asian brand pinning its hopes on the food-to-go category.
In March, Sushi Daily owner KellyDeli rolled out its new Asian food concession Sticks, Bowls & Rolls of healthy meals, snacks and comfort food at seven Asda stores.
Last month, Japanese and Asian food group Yo launched a trial supply of food-to-go products in seven WH Smith stores. Yo also this month launched a range of chilled ready meals thanks to a tie-up with Kerry Foods.