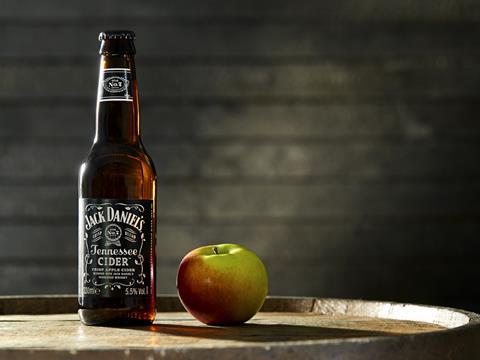 Jack's back. And this time he's dressed up as a cider. That's right, Jack Daniel's, Britain's biggest whiskey (with or without an 'e') brand has branched into the appley stuff. So is this another landmark for the cider category or a brand extension too far?
In my formative years in the early 1990s, two types of people drank cider: teenagers hoping to impress the opposite sex at parties, and tramps. And in my experience, after a night sousing oneself with Woodpecker from a supersized PET bottle, both would have a similar chance of copping off.
Then along came Magners in the late 90s, and the market was transformed. Behold the sensuous contours of the glass bottle! The gold foil lovingly wrapped around its neck! The clink of the ice! The fizz! The price tag! Suddenly, cider was sexy. Just ignore the lurid colour.
Truth be told, it didn't actually taste that different to Woodpecker. It was the marketing that was different. This was cider for people with a bit of money. And teeth. Cider sales boomed.
The next landmark for cider came in 2011: the launch of Stella Artois Cidre, which reignited the growth that had only just started to wane (albeit marginally) since Magners' launch 12 years earlier. Now beer drinkers were switching to cider, lured by the label of Britain's biggest lager brand.
Cider won over more drinkers with new flavours from Kopparberg and Rekorderlig. Bulmers and the lager brands that chased Stella into cider soon followed with a string of flavoured launches. Even Magners jumped in, with a (frankly, disgusting) whiskey-flavoured line, among others.
Then growth stopped dead. The profusion of me-too cider brands was impacting profitability; the endless stream of new flavours wasn't delivering incremental growth, just cannibalising existing lines; the fixture had become confusing to shop. Drinkers were migrating to spirits, wine and beer.
Recent years have seen a slew of delistings, with casualties including Stella, Bulmers and Magners, which took the bold (and sensible, in the case of that whiskey one) step of axing all its flavoured lines last year. Carlsberg and Carling's me-too cider launches have disappeared in grocery.
Now Jack is aiming for the empty shelf space left by these products. It will be in good company. Diageo has already made the leap into cider with its Pimm's and Smirnoff extensions, and, according to Nielsen, Smirnoff Cider accounted for well over a third of all flavoured cider growth last year.
Pimm's, Smirnoff's and now Jack's entry into cider is significant. These are some of grocery's most powerful brands; they have the potential to bring new consumers to the sector. Punters will pay more for these brands.
That cider has returned to growth in the past year – in value at least; up 1.1% on volumes that have dipped slightly [Kantar Worldpanel 52 w/e 26 March 2017] – is in no small part down to this new breed of spirit ciders, or spiders, which carry a hefty premium.
The entry of Jack Daniel's, which has been one of Britain's fastest growing food & drink brands for several years, into this market could well be a landmark for cider. So long as it doesn't taste anything like Magners Irish Whiskey Cider, that is.