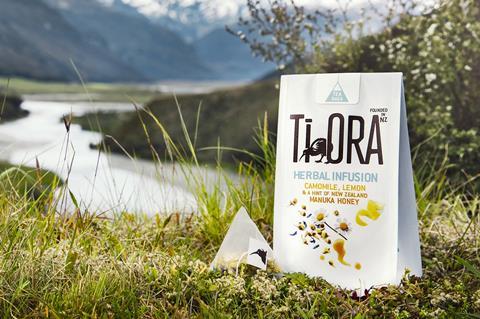 Jacobs Douwe Egberts is making its UK debut in the tea category, tapping the wellbeing trend with New Zealand brand Ti Ora.
Rolling exclusively into Sainsbury's this week through the retailer's Future Brands initiative, Ti Ora comprises eight SKUs available across green tea, fruit and herbal infusions and one "innovative twist" on black tea (rsp: £2.99/15 bags).
All feature ingredients sourced from New Zealand, while the "coarse cut, full chunk" leaves come in a biodegradable, pyramid-shaped teabag with no artificial flavouring.
Variants include Passionfruit & New Zealand Peach; Peppermint, Marigold & New Zealand Lemon; Summer Fruits & New Zealand Apple; and Breakfast Blend & a Hint of New Zealand Manuka Honey.
The UK launch came with "green tea in particularly dynamic growth of 17.5%" according to Ti Ora. Its range would "help reconnect consumers with nature".
It will be supported by 'Welcome to New Tealand', a campaign across in-store, digital, social, outdoor and sampling.
Launched in 2016 as "a tea of wellbeing", Ti Ora is an eco-conscious business committed to the 1% For the Planet initiative, which sees 1% of its sales donated to environmental causes.
Ti Ora's "natural proposition and genuine sustainability credentials will help consumers do a little good with every cup" said brand manager Sara Hanna.