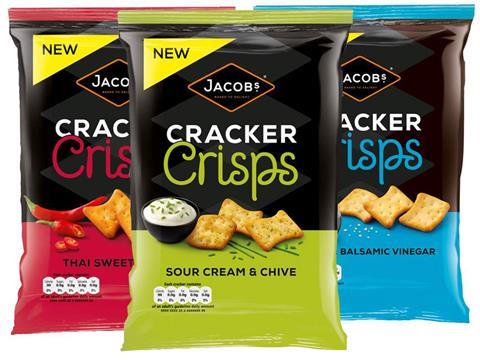 United Biscuits is looking to tap the boom in savoury snacking with the launch of new bagged snacks under the Jacob's brand.

Rolling out across the trade from next week, Cracker crisps are available in 150g sharing bags (rsp: £2.09) in three flavours - Sea Salt & Balsamic Vinegar, Thai Sweet Chilli, and Sour Cream & Chive. The range will be expanded with 40g handy packs from August.

The launch comes weeks after The Grocer revealed take-home sales of crisps had been overtaken by non-potato snacks such as savoury biscuits for the first time [Kantar Worldpanel 52 w/e 1 February 2015], and a month after Mondelez announced it was expanding Ritz into bagged snacks with Ritz Crisp & Thin.

Cracker Crisps will account for about half the £14m spend UB is making on the Jacob's brand in 2015. Investment has included about £2m on upgrading a production line at its plant in Aintree, Liverpool, to produce the snacks.

The business had "full support" for the range in place through to 2017, said UB savoury brands director Ted Linehan, and had plans to upgrade to another production line to increase capacity.

"There is a huge opportunity to target the evening snacking occasion through savoury biscuits in sharing bags," said Linehan, adding Nielsen data showed savoury accounted for just 17% of total biscuit spend in the UK versus about 40% in the US and Australia.

Cracker Crisps will be supported with a £4.5m spend from July including TV ads featuring the Jacob the baker character that will focus on the taste of the product.

Linehan admitted the launch of Mondelez's Ritz bagged snacks - which have a similar pack design to Cracker Crisps - had not "filled him with joy" but said it signalled the "massive opportunity" for snacks.