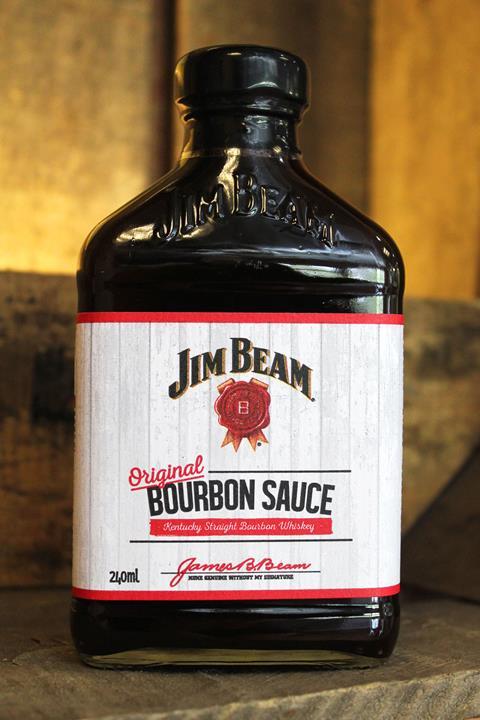 Manchester-based supplier MRC The Flava People has this week launched the UK's first Jim Beam bourbon sauce into 270 Sainsbury's stores.
The sauce (rsp: £2.99/240ml), which will also go into 251 Tesco stores in August, comes in a bespoke bottle that echoes the shape of a hip flask and has the name Jim Beam embossed on the neck. It contains 9% Jim Beam.
MRC brand manager Scott Dixon said the company was hoping to establish bourbon sauce as a category in its own right, rather than another BBQ sauce.
A second variant – a cherry flavour sauce made using Jim Beam Red Stag – will launch in Sainsbury's in September. Dixon said this would be the first of several variants inspired by flavoured bourbons rather than traditional BBQ sauce flavours, and that this would help align the sauce range with what was going on in the drinks category, as well as creating more usage occasions outside the BBQ season.
Flavoured bourbons have grown in popularity in recent years, led by Jack Daniel's Tennessee Honey, which is up 40.5% to £31.2m [Nielsen 52 w/e 25 April 2015]. The Jim Beam brand is also in strong growth – up £46.3% to £31.3m – largely driven by the flagship whiskey. It recently launched an Apple flavour, which is likely to inspire a future entry in the sauce range.
MRC, which produces a range of sauces and marinades for manufacturers and foodservice, already supplied the sauce used in a range of Jim Beam-branded products sold in Iceland, such as bourbon ribs and pulled beef. It is working closely with Maxxium, UK distributor of Jim Beam, on the development of the range.
"We realised there was no point in just creating a new BBQ sauce – we wanted to create a new category," said MRC brand manager Scott Dixon. "We learned from what was going on in the States that it could be a year-round product, and the best way to do that was introduce flavours like the cherry that work with a whole array of meats and dishes."