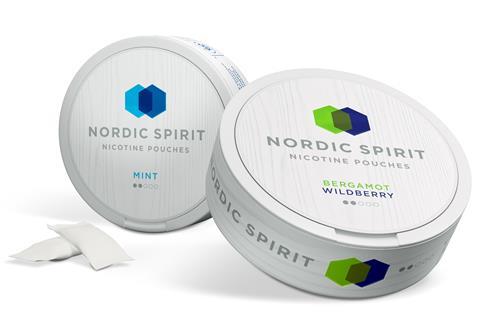 Japan Tobacco International has announced the UK launch of Nordic Spirit – a tobacco-free nicotine product from Scandinavia.
Available in Mint and Bergamot Wildberry, Nordic Spirit was a small pouch made with "plant-based fibres, nicotine, additives and flavourings commonly used in the food industry" said JTI. It is designed to be kept under the user's lip, moulding to the gum and delivering nicotine for up to 60 minutes.
Having made its debut last year in Sweden, the "convenient and discreet" Nordic Spirit had "rapidly grown in popularity" JTI said. Its arrival in the UK would tap "the evolving preferences of adult smokers and vapers, who are looking for an alternative nicotine product".
Both variants come in a pack of 20 priced at £6.50 from nordicspirit.co.uk.
"This is an exciting and innovative new launch into a category that is in its infancy, but one that we expect to evolve and show significant growth over the coming years," said JTI UK head of marketing Stephane Berset.
Demand for new and different nicotine products was "driven by the growing number of occasions in which it's not appropriate or possible to consume nicotine by smoking or vaping" he added. "Nordic Spirit offers more choice."