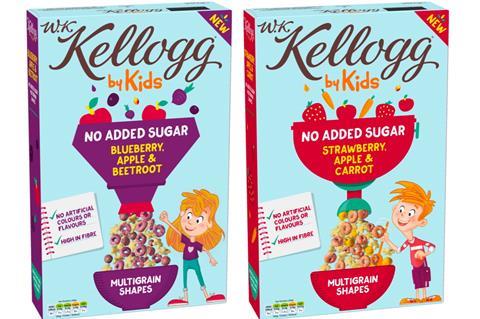 Kellogg's has created its first no-added sugar cereal for children.
Called WK Kellogg by Kids, it has launched in two flavours – Strawberry, Apple & Carrot, and Blueberry, Apple & Beetroot.
They consist of a mixture of "fun shapes" that are coloured and flavoured using fruit & vegetable juice concentrates and powders, and are free of artificial colours, sweeteners or flavours.
They are also billed as being high in fibre (16g per 100g) and vegan-friendly. Per 30g portion, both cereals contain 109 calories.
They will roll into Morrisons from this month, followed by Tesco and Asda from February, Waitrose in March and Sainsbury's in April (rsp: £2.99/350g).
The launch will be backed by a £2.1m marketing push.
"We are targeting parents who can't find what they are looking for in the cereal aisle," said Kellogg's UK activation brand lead Aimee Cowan.
Kellogg's "wanted to offer something that is a balance between health and taste at breakfast time" that "has good nutritionals for kids, but that they won't find boring or tasteless", she added.
The WK Kellogg brand debuted in 2018 with a range of vegan-friendly cereals.
In 2019 it was reviewed to ensure every granola was no-added sugar, and a vegetable-based variant – Raspberry, Apple & Carrot – was added to the range.
"The move to replace old variants with no added sugar variants has seen our rate of sale increase significantly across the whole range," said Cowan.
"This gives us the confidence that consumers will back WK Kellogg by Kids and trust the WK Kellogg range to deliver on health and taste," she added.
Kellogg's will donate 10p to its Breakfast Clubs programme, which supports school breakfast clubs across the UK, for each pack sold.