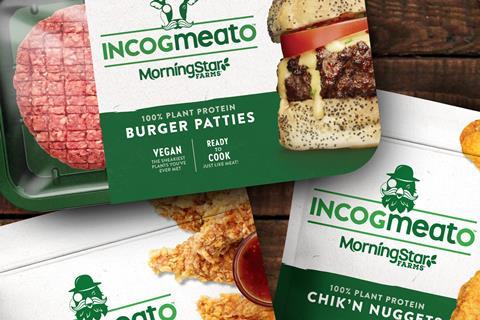 Kellogg's is eyeing a UK launch for Incogmeato, the plant-based meat alternative brand from the breakfast giant's MorningStar Farms division.
Unveiled in the US last week, Incogmeato's three-strong lineup comprises chilled Burger Patties and frozen Chik'n Tenders and Chik'n Nuggets – all made from soy and clearly labelled as vegan.
"As more consumers are choosing a flexitarian lifestyle and actively reducing meat, we're thrilled to be extending the Morningstar Farms portfolio with a delicious and satisfying meat-like experience," said MorningStar general manager Sara Young.
While the majority of people were "open to plant-based eating", many fewer "actually purchase a plant-based alternative" she added. "So, the intent is fully there, but it hasn't necessarily been followed with action. We know the number-one barrier to trying plant-based protein is taste. These consumers are still seeking the amazing taste, texture, and sizzling qualities of meat but want a better alternative for themselves and the planet."
Incogmeato is scheduled to roll out across US grocery and foodservice in early 2020 – and it also looks set for a UK launch. "We are actively evaluating our global expansion plans for MorningStar Farms," a spokesman for Kellogg's told The Grocer.
The Michigan-based company registered the Incogmeato name with the Intellectual Property Office in July under class 29, which includes textured vegetable protein and vegetable based-meat substitutes.
Its arrival would likely mark a major grocery debut for MorningStar in the UK, which began in 1975 in the midwestern US as a producer of soy-based vegetarian products such as burgers, bacon, sausage and corn dogs. Kellogg's acquired the brand in 1999 when it bought its owner, Worthington Foods.
In March this year, MorningStar – which has a branded veggie burger in Burger King in the States – announced its entire portfolio would be vegan by 2021, meaning it would remove more than 300 million eggs per year from its production process.