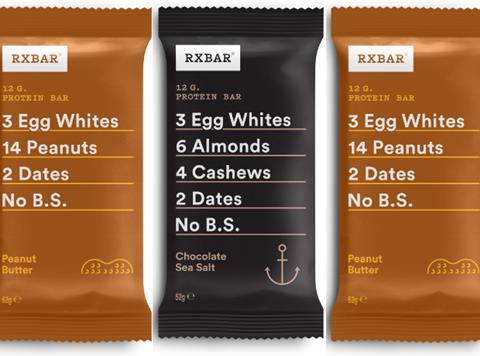 Kellogg's is introducing the UK to its US protein snack sensation RXBar through a low-key, startup-style rollout targeting fitness enthusiasts.
Having acquired RXBar in October 2017 for a reported $600m (£465m), Kellogg's launched it into the UK last month with a direct-to-consumer model, while also pushing it into more than 200 high-end gyms and workout spaces including Barry's Bootcamp, Blok, F45 and CrossFit.
The rollout is the result of efforts by a dedicated RXBar team working from offices in Marylebone, London, rather than at Kellogg's Manchester HQ.
The snacking brand was "operating a startup" in the UK, said its managing director, Richard Peake. It was looking to replicate RXBar's US success, which has seen turnover reach $250m in six years. "To do this requires a team and environment that builds a 'day one' mentality and highly entrepreneurial mindset."
Kellogg's had been "highly supportive in running RXBar UK as an entirely differently entity" Peake added.
He saw three "huge" opportunities for the brand, he said. RXBar combined the consumer trends of clean eating and protein, while also "bringing a brand and culture that people can truly identify with". Finally, the business, by virtue of its e-commerce model, was "set up to work alongside the changing retail landscape and consumer shopping habits".
RXBar was founded in 2013 by Chicago entrepreneurs Peter Rahal and Jared Smith, promising minimum ingredients and 'no BS'. The duo sold the business four years later to Kellogg's. It now makes around 25 bar variants for adults and children, as well as a selection of nut butters.
The UK's four options are Chocolate Sea Salt, Blueberry, Coconut Chocolate and Peanut Butter (rsps: £2.50/52g & £27/12x52g). Made in an undisclosed UK location, they provide 23g of protein per 100g. Their recipes closely resemble bestselling variants from the US – although RXBar would "start to add new flavours to local tastes, for sure" Peake said.