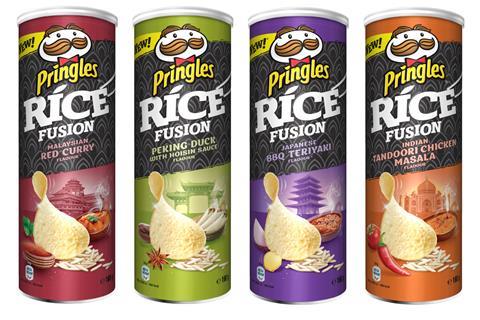 Pringles is to launch its most significant NPD in four years, tapping a demand for healthier snacks with Rice Fusion.
Owner Kellogg's is predicting first-year sales of £20m for the four-strong lineup of Asian-inspired flavours, which will begin rollout later this week. Made with a principal ingredient of 24% rice, rather than the 42% potato of regular Pringles, Rice Fusion contains around 2.6g of satfat per 100g – about 23% less than the brand's core crisps.
Two years in development, the NPD was Pringle's "biggest and most exciting" development this year and the brand's first major expansion since Tortilla in 2015, said Pringles commercial lead Vicky Middlemast. It will be backed by a £3m push.
With rice being "a really good flavour-carrier", the new snack was well-suited to the "really creative" Asian-style flavours that were "more meal-based" than usually found in bagged snacks, she added. "There are a lot of people out there who like trying new flavours in crisps, so we're trying to attract those who are seeking new experiences."
Malaysian Red Curry, Indian Tandoori Chicken Masala and Peking Duck with Hoisin Sauce will be available across grocery, while Japanese BBQ Teriyaki will be exclusive to Tesco. All are packed in a 160g can – 20% smaller than standard Pringles. Rsp is £1.99 with an introductory promotional price of £1.
The packaging is the same make-up as other Pringles tubes, comprising a cardboard outer, foil lining, metal base, foil seal and plastic lid. It can be recycled through the brand's partnership with Terracycle, which kicked off in December. The initiative was "a really good step in the right direction" for Pringles while it worked on making its packs "very easily recyclable" Middlemast said.
The Rice Fusion launch comes after Pringles enjoyed value growth of 8.9% last year to £185.9m on the back of a series of high-profile promotional activities [Nielsen 52 w/e 8 September 2018].