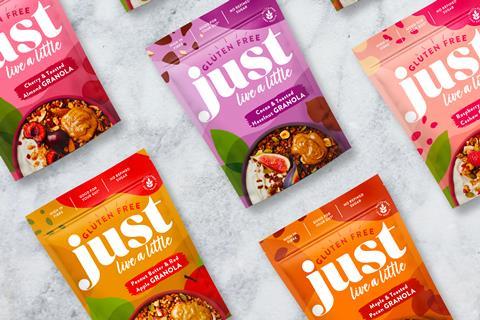 Kestrel Foods is to make its first foray into breakfast cereals.
The Forest Feast and Acti-Snack owner has unveiled a quartet of gluten-free granolas under the brand name, Just Live a Little.
Maple & Toasted Pecan Granola; Raspberry, Coconut & Cashew Granola; Cocoa & Hazelnut Granola; and Peanut Butter & Apple Granola (all rsp: £4/360g) will hit Tesco and Spar shelves on 6 November, with a wider retail rollout planned for early 2024.
Batch-baked at Kestrel Foods' gluten free facility in County Armagh, Northern Ireland – which received £3m investment last year – the granolas contain wholegrain oats, blended with fruit, nuts, seeds and nut butter "for a creamy taste".
They are vegan and are billed as being good for gut health with no refined sugar.
"Just Live a Little was created to offer a healthier option for those who want to enjoy a breakfast they can feel good about," said Kestrel Foods.
According to Kestrel Foods marketing director Bronagh Clarke, there were "over four million consumers in the UK who are actively choosing to reduce or avoid gluten in their diet for many reasons".
"Sometimes the choices are restrictive in terms of taste and variety… with low nutritional quality," Clarke added.
The launch comes after Tetley owner Tata Consumer Products entered breakfast cereals in August with a range of mueslis made from millet.