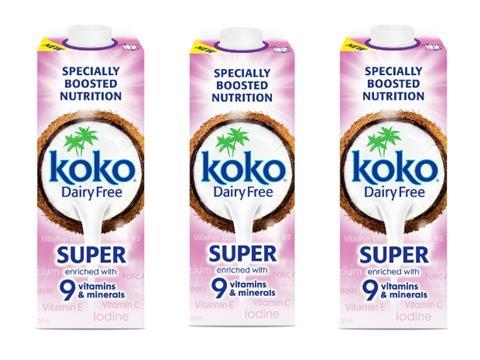 Dairy-free brand Koko has launched a fortified variant of its coconut-based milk alternative.
Its new Dairy Free Super drink rolls out across the mults this month in chilled and UHT packs (rsp: £2/1l), containing "more nutrients than any non-specialist plant or dairy milk", it claimed.
The soya-free drink is enriched with nine vitamins and minerals, including folic acid, iodine, calcium and vitamins A, B12 and E. The combination of nutrition-boosting elements were designed in conjunction with dieticians to ensure the product was beneficial for all age groups from toddlers to seniors.
The brand was hoping to provide a "viable alternative" to Alpro's similarly fortified Growing Up drink (rsp: £1.40/1l), but in a format free from the 14 major allergens. Its main ingredients include 8% freshly pressed coconut, grape juice concentrate and faba bean protein.
"This new launch is the first of its kind and offers genuine innovation in the dairy alternatives category," said Koko senior marketing manager Heather Lewis. "It also widens the range of coconut-based dairy alternatives and offers more rounded nutrition to the increasing number of consumers who are looking to avoid dairy or reduce their consumption of it."
It follows the launch of the brand's cheese alternatives in 2018, which saw it branch into dairy-free soft cheese and cheddar imitations.