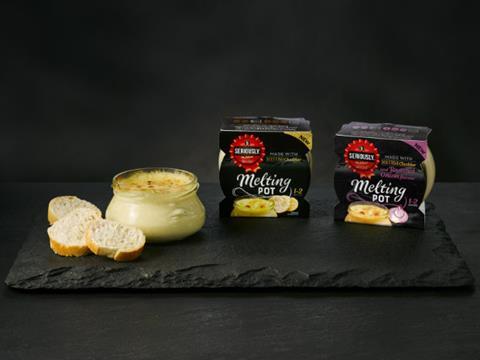 Lactalis McLelland is set to expand its Seriously cheddar range with the launch of cheddar Melting Pots targeting the Continental cheese market.
Its Melting Pots, which come in Aged Scottish Cheddar and Roasted Onion flavours, are due to roll out in Waitrose from tomorrow (10 October), with launches in Asda, Sainsbury's and a host of c-stores scheduled for later in the year (rsp: £2.99/150g).
The "indulgent" pots come in fully recyclable glass jars suitable for oven baking or microwaving. Anything from bread to veg can then be dipped, while the cardboard sleeve features a range of serving suggestions.
Seriously Melting Pots are set to be merchandised alongside baking camembert and other hot eating cheeses in a bid to bring cheddar to a different audience.
Cheese was a category "crying out for innovation" delivered by the Seriously range, said Lactalis McLelland sales director Mike Chatters. Its pots, made with 30% cheddar, have been in development for a year and using milk processed at the Caledonian Creamery in Dumfries and Galloway.
The product had performed well in consumer testing, with consumers praising the product's difference from what was already on the market, standout potential and easy preparation, said the brand.
"Our delicious Seriously Melting Pot taps into a gap in the market for an everyday hot-eating cheddar product, effectively bringing the mass market appeal of cheddar into the Continental cheese category," said Chatters.
"We're hugely excited to be launching yet another quality new product from the UK's fastest-growing cheddar brand that we believe has all the attributes to be a hit with both consumers and retailers [IRI Data, Major Multiples 52 w/e 18 August 2018]. Seriously has a proven track record of successfully bringing new products to market and, thanks to its Scottish heritage, has a compelling and appealing back story."
It comes as the brand's parent company Lactalis McLelland grew sales by 15.7% to £199.8m in the year to 31 December 2017. Its pre-tax profits rose from £5.1m to £15.9m as a result of lower cost of sales for both UK and imported products.
The dairy giant's brands including Seriously, Galbani, President and Galloway experiences strong performances throughout the year. Meanwhile its organic dairy brand Rachel's lost traction, seeing volume losses and prompting a 2018 relaunch in a bid to grow its shares in organic milk and butter markets.