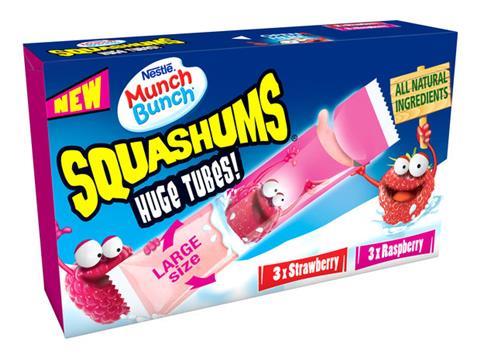 Dairy joint venture Lactalis Nestlé has expanded its Munch Bunch Squashums yoghurt range with the launch of a new variant in large tubes for older children.
Squashums Huge Tubes went on sale nationally in Morrisons stores on 4 January (rsp: £1.99) in packs containing three 60g strawberry-flavoured fromage frais tubes, and three 60g raspberry-flavoured tubes.
The original Squashums range is targeted at younger children and was launched in 2006. It is packaged in 60g fruit-shaped shells, which allow consumers to squash the yoghurt into their mouths.
Lactalis Nestlé said the new Huge Tubes variant was designed to appeal to older children after consumer research revealed many found a 40g standard tube of fromage frais too small.
It contains 50% more product than its main tube rivals and features transparent packaging, which creates less waste because children can see how much fromage frais is left in the tube, said brand manager Marie-Laure Danican.
"Handheld is an important sector of the market and, as such, we want to ensure our varied product range meets the needs of kids of all ages," she added.
"We have identified a clear gap in the market with Huge Tubes, which will strengthen our current Squashums range, with all-natural ingredients and taste satisfaction for kids, while also representing great value for parents."