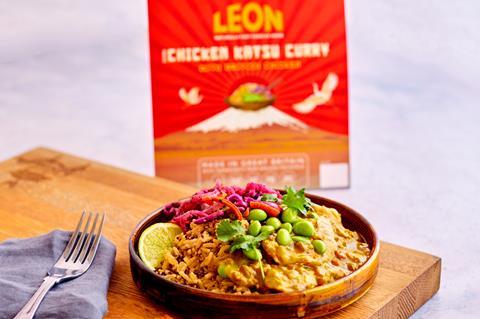 Leon is expanding its retail range with 13 new products including ready meals.
It is adding six gluten-free ready meals to the line-up as well as five vegan sides and two flavours of ready-to-eat marinated chicken thighs.
The ready meal line-up includes Naked Chicken Katsu Curry, Sweet Potato Katsu Curry, Lentil Masala Dahl, Brazilian Style Black Beans, Thai Green Chicken Curry and Coconut & Lime Jackfruit Curry (rsp: £4).
Also hitting shelves are five vegan side dishes. They are: Aioli Mac 'N' Cheeze Bites, Mediterranean Mac 'N' Cheeze Bites, Chimichurri Cheeze 'N' Herbs Bites, Caulipower Wings and Crispy Mushroom Nuggets, priced at £3 each.
The marinated, chargrilled chicken thighs will roll out in two flavours; Sweet Pomegranate & Smokey Harissa and Coconut & Kaffir Lime Leaf (rsp: £2.70/150g).