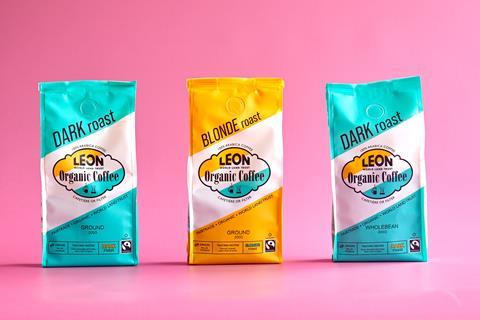 Leon has launched its coffee into the mults for the first time via a trio of organic variants into Sainsbury's.
The coffees, which launched into the retailer yesterday (23 May), have rolled out in two ground variants, with one whole bean SKU.
Its Blonde Roast Ground is billed as having notes of "smooth caramel and hints of citrus".
Its Dark Roast coffee, as served in Leon restaurants, is claimed to have a "full, well-balanced flavour with spicy undertones" and is available in a Ground or Wholebean variant.
Available at Sainsbury's 493 stores nationwide, the trio of coffees is Fairtrade certified and use 100% arabica beans from Peru and Honduras (rsp: £4/200g).
Consumers will be able to recycle their empty coffee bags by returning them to larger Sainsbury's stores, it added.
Leon had partnered up with Puro Fairtrade Coffee and the World Land Trust to ensure each coffee bag purchased would help save four squared meters of Tanzanian rainforest, it said.
It added this would protect the Rondo bushbaby, one of the "most endangered primates" on earth.
Leon's restaurant customers would also be supporting the cause, with one square meter of rainforest saved for every seven cups of coffee served, it added.
To date, Leon's collaboration with Puro and the World Land Trust had "directly helped save over eight million square meters (2,183 acres) of rainforest or around 564,282 trees", it said.
MD Ashley Davis said Leon was "proud" to offer consumers food and drink that "tastes good and does good".
"The partnership with the World Land Trust also means our customers can enjoy our coffee and at the same time help conserve and protect Tanzanian rainforest and primate corridors," Davis added.
Next month, Leon will launch its restaurant coffee subscription service, priced at £15 per month.
From June, consumers will also be able to order twin packs of Leon coffee through their letterboxes (rsp: £12/2x200g).