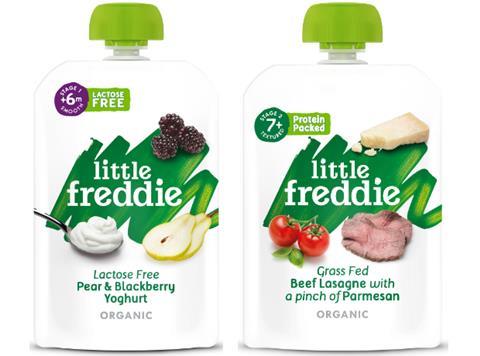 Fast-growing babyfood brand Little Freddie is taking on the likes of Ella's Kitchen with a second extension to its healthier eating range since arriving in the UK three months ago.
Latest pouched lines include a no-lactose yoghurt – a UK first for babies, according to the business. Lactose Free Pear & Blackberry Yoghurt (rsp: £1.25/100g) for stage one feeding would offer "more choice to the market for parents of children with allergies" said Little Freddie.
It is joined by a pair of high-protein stage two meals, Grass Fed Beef Lasagne with a Pinch of Parmesan and Free Range Chicken & Kale Pot Pie with Cheddar Mash (rsp: £1.70/130g), made with organic British meat. Both were developed "based on the calorie content of breast milk, making them a complete and satisfying meal". With 7.2g of protein per 100g, they provide "twice as much protein as the market leader". Number one babyfood brand Ella's Kitchen typically has about 3.3g per 100g in its most similar pouches.
Completing Little Freddie's NPD are two stage one veggie meals, Flavoursome Butternut Squash, Peas & Kale, and Satisfying Sweet Potato, Parsnip & Broccoli (rsp: £1.25/100g).
The five new lines are set to roll out to Ocado, Amazon and Boots, with high street supermarket listings expected later in the year. They come just two weeks after the brand unveiled the UK's first Pink Lady-branded babyfood product, a pouched purée for stage one (rsp: £1.05/70g).
The private, family-run Little Freddie was founded in 2013 in China by British financier Piers Buck, expanding to Hong Kong before making its UK debut in April with 10 lines that promised "first-to-market flavour combinations".