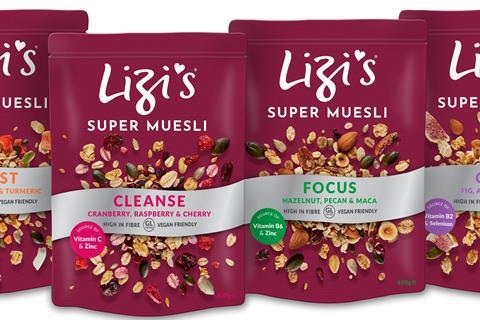 Premium cereal brand Lizi's is extending its healthier breakfast offer by making its debut in muesli.
It has added Lizi's Super Muesli (rsp: £4/400g), a four-strong range made from a mixture of toasted and untoasted oats, which it said provided "fortified functional benefits".
Boost (mango, papaya & turmeric) is a source of vitamins C and B6; Cleanse (cranberries, raspberries & cherries) provides vitamin C and zinc; Focus (hazelnuts, pecans, maca, hemp & pomegranate seeds) contains vitamin B and zinc; and Glow (figs, red apple, almonds, golden raisins and quinoa) is a source of vitamin B2 and selenium.
The lineup is sweetened with treacle instead of honey, making it vegan. Each 100g provides an average of 462kcals, 13g of sugar and 9.5g of fibre.
Boost, Focus and Glow are set to roll out from March to Waitrose. They were created to attract a younger audience to Lizi's, said brand manager Alice Bream. "Our research has shown us that 25 to 35-year-olds have the highest consumption of muesli, eating the cereal at least weekly. We also know this is the age group looking for innovation and expecting to be wowed."
Lizi's Super Muesli was "a first to fixture, with its unique fortified functional benefits and, of course, being dust-free like our granola" she added.
While the muesli sector includes innovative flavours, it was still short on "unique products which offer added health benefits. This could be one of the reasons why the category is in decline," Bream said. Granola, on the other hand, was experiencing "strong growth".
In fact, the combined muesli and granola market is up 2.6% in take-home value sales [Kantar 52 w/e 6 October 2019]. It is now worth £253.8m across grocery.