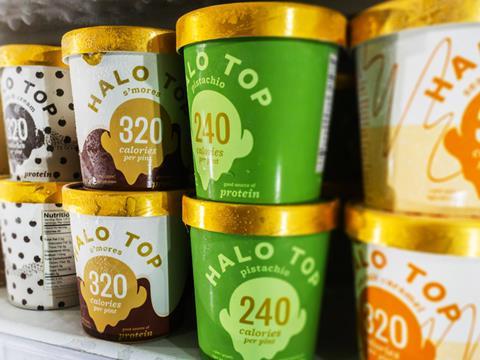 Halo Top, the low-calorie ice cream sensation that is giving Häagen-Dazs and Ben & Jerry's a run for their money in the US, is coming to the UK, The Grocer can reveal.
The brand – whose stevia-flavoured ice creams contain less than 360 calories a pint – has started advertising for a UK marketing manager to help launch Halo Top in the UK, with an ad on LinkedIn stating it is looking "for an ambitious individual to join us on our journey to go global". The position is listed as based in London, but candidates need to be willing to travel and have "desire to help expand Halo Top into the UK and beyond".
The ad contains no information about when the UK launch might happen, but it is understood Halo Top is eyeing January to take full advantage of the New Year dieting season. It has already secured listings with several major UK supermarkets, The Grocer understands.
Cult following
Halo Top launched in the US in 2012 and has since grown into one of the biggest grocery success stories, reaching $50m in sales in 2016, according to Inc. magazine. It now offers 25 flavours – including seven dairy-free, vegan variants – and is sold in 19,000 stores stateside.
Its key selling point is that it's a "healthy" ice cream , with its low-calorie ice cream coming in at between 240 to 360 calories for an entire pint. Calorie count per pint is printed prominently on the front of the tubs, which also flag up Halo Top's 20g protein content per pint.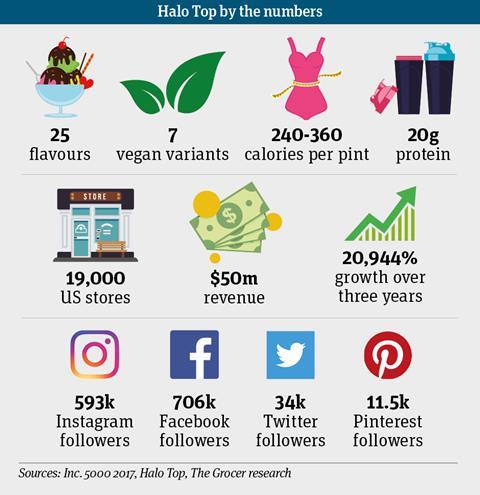 In an 'us versus them' section on its website, the brand compares its calorie and sugar count against big ice cream brands such as Ben & Jerry's, though as its media profile has grown it has come in for criticism for its 'healthy' claim, with some nutritionists arguing there is nothing 'healthy' about suggesting people eat an entire pint of ice cream.
That does not appear to have dented consumer support for the brand, with an army of fervent fans on Facebook, Instagram and Twitter awaiting every new flavour launch with bated breath.
#HaloTop #VeganIceCream 🍦😁💯🎉 Im so lucky to try them before they get to the supermarkets 🙌🏻 Thank you @HaloTopCreamery VIP FAN 🤤😁😘 SO GOOD! pic.twitter.com/qKFyup0TG1

— Debbie Bertrand (@DebbieBertrand) October 12, 2017
Impact on Unilever
Halo Top's impact on established ice cream players in the US has been nothing short of dramatic.
In a call on its recent Q3 results, Unilever – maker of Ben & Jerry's – cited Halo Top as the key reason its US ice cream business had underperformed and said the brand had taken 5% of the US ice cream market and 1.5% share from Unilever brands in quick time.
Unilever are unlikely to be blindsided in the same way from Halo Top's entry into the UK
All eyes will now be on how Halo Top's expansion to the UK will affect the dynamics of the ice cream category over here, and how much market share the newcomer can claim. Its launch will impact not just category big hitters like Unilever but also startups like Oppo, which have carved out a niche in the low-calorie ice cream segment in the UK.
Warren Ackerman, an analyst with Société Générale, said he would expect Unilever to be better prepared to defend its position in the UK.
"Unilever are unlikely to be blindsided in the same way from Halo Top's entry into the UK, and we would expect a quicker response," he said. "That said, we do see a low-calorie, high-protein ice cream offer also doing well in the UK but have some doubts as to whether it will do as well as in the US."
Takeover rumours
Given its staggering growth rates – Inc. magazine put its three-year growth at 20,944% - rumours are circulating that a sale of Halo Top could be imminent.
In August, Reuters reported parent company Eden Creamery was looking to sell the brand for as much as $2bn.
"Longer term Halo Top may make an attractive takeover target as it appeals to the important millennial cohort, but valuation multiples would likely be very elevated," said Ackerman. "That said, Unilever could scale it very rapidly across its global portfolio, which has unsurpassed distribution reach."