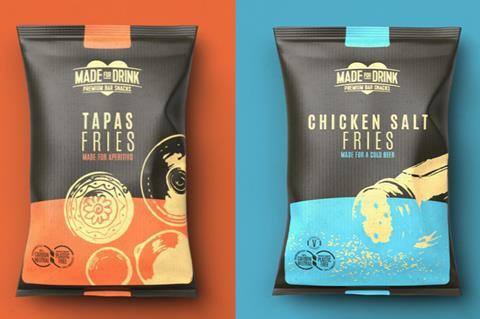 Meat snacking startup Made For Drink is moving into the crisps category.
The brand – whose range includes snacks such as Chorizo Thins and Mangalitza Salami Chips – has created a duo of crisps.
They are: Chicken Salt Fries, which despite the name are suitable for vegetarians and based on an Australian seasoning for rotisserie chicken, and Tapas Fries, which comprise a mix of straw fries and slices of chorizo, seasoned with olives, sun-ripened tomatoes and paprika.
Made For Drink founder Dan Featherstone said 2021 was "the perfect moment to build up a blossoming off-trade and online reputation by taking an ambitious next step into the £1bn potato crisp category".
The brand had shown its "ability to bring new foodie shoppers into the snacks category" with its "unique brand proposition, products and reputation", he added.
The new SKUs will hit Sainsbury's and independents from 21 April.