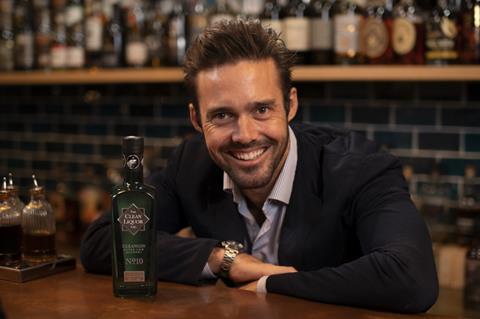 The Clean Liquor Company – the low and non-alcoholic drinks brand launched by Made in Chelsea star Spencer Matthews – is to launch a low-alcohol rum, The Grocer can reveal, with plans to expand into RTDs later this year.
The brand's new Clean Rum (1.2% abv) is billed as having been distilled the same way as a "traditional golden spiced rum", yet with more than 30 times less alcohol and fewer than four calories per serving. The brand did not reveal exactly how it had achieved the 1.2% abv strength.
It delivered "hints of caramel and cayenne pepper", as well as a "deep aroma", and would be best served over ice with cola or ginger ale and a wedge of lime, said the brand.
It will launch exclusively online in May (rsp: £25/70cl).
It then plans to launch into the RTD market with Clean Gin & Tonic and Clean Rum & Cola (both 0.5% abv), Matthews told The Grocer.
It was "difficult in these unprecedented times to know how a launch is going to go" but he would use social media to "make as much virtual noise as possible", with the brand pivoting to DTC to maintain sales.
"Ultimately much of our business is going to be online this year, so we've made changes to ensure that our DTC sales are as high as they can be and that we're doing the right thing online," he added.
Matthews founded the brand last year, citing his own "negative experiences" with alcohol as inspiration.
He said he hoped the brand would prove it was "still possible to enjoy the taste of your favourite tipple, without the calories or the hangover" and was keen to promote low & no alcohol drinks as a year-round option and "not just for Dry January".
He added he had spent the past year-and-a-half learning about the low & no alcohol sector and had developed The Clean Liquor Company to "compete in that sector at the highest level".
The news comes just two months after The Clean Liquor Company netted a £1.6m investment in a fundraising round led by Lightspeed Venture Partners.
Lightspeed said it wanted the business to become "the next Goop of the low to no alcohol category".
William Reed – the publisher of The Grocer – has launched a new exhibition exclusively for the low & no category. For more information, visit low2nobev.com.